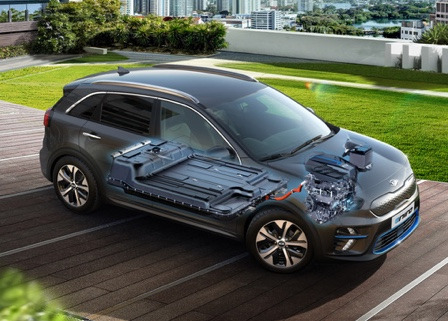 WHAT IS AN ELECTRIC CAR?
How do Electric cars work?
An electric car is just like any other car, except it uses a battery to drive a powerful electric motor. This makes them more economical and with no emissions, better for the environment. And instead of refuelling you simply recharge at home, or at one of the many public charge points.
Reasons to drive a Kia Electric car
There are substantial benefits to owning an electric car. Here are our top four.
Because electricity is much cheaper than petrol or diesel, your journey could cost less than a third of what it would in a combustion – engine car. Battery-electric vehicles can also travel for free in the UK's new Clean Air Zones and London's Congestion Zone.
There are tax incentives too. A £3,000 plug-in car grant, while company car drivers are subject to lower company car BIK tax. Which for battery-electric cars registered after the 6th April 2020 is 0%, increasing to 1% in 2021/22 and to 2% in 2022/23
Zero Emissions
An electric vehicle doesn't have a tailpipe, which means no exhaust emissions. This helps improve air quality, particularly in urban areas.
Imagine waking up every day with a 'full tank'. Just plug in when you get home, and your car takes care of the rest. You can also get a £350 grant to help you pay for the home charger, too.
Relaxing Drive
Electric cars are incredibly quiet, making for a more relaxing atmosphere. Driving is easy too, because electric motors produce maximum torque at all revs. That simply means you get maximum power without having rev through the gears, so acceleration is instant.
Latest News
17-11-2021
Introducing the all-new Kia Sportage. A car designed to unleash your…
Read more >
05-11-2021
THANK YOU!! Dover Garage would like to thank everyone who came to the recent Kia…
Read more >
22-09-2021
Great day had by all at Army Golf Club Pro AM on Monday 20th September 2021.…
Read more >